The Lofts at Empire Yard are Macon's newest neighborhood preservation development. Located in the heart of the Macon Railroad Industrial Historic District, The Lofts at Empire Yard will not only consist of new Loft living but a complete renovation of Sixth Street from Poplar to Walnut. This renovation will bring newly paved streets, wide sidewalks, tree islands with speakers for music, raised walkways, street side parking, new commercial spaces, and a 2.5 acre Park, Empire Yard. 
You might ask, What makes The Lofts at Empire Yard different from the rest of Loft developments in Downtown Macon? Well, They say if you want to change the world you should start in your own backyard. And that is what we are trying to do and hope others follow suit.  We have lived on Sixth Street for 4 years and owned a business here for 12 years. In designing this project we wanted to create a unique experience in downtown living with ample space so that you don't feel like you are living downtown but are still in the corridor.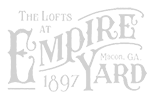 The Lofts at Empire Yard
340 Sixth Street, Macon, GA 31201 - ContactUs@TheLoftsAtEmpireYard.com
All information subject to change without notice. Prodigy Holdings, LLC - All Rights Reserved. © 2021 All Rights Reserved.  Equal Housing Opportunity.